How I learned to stop worrying and appreciate the College Football Playoff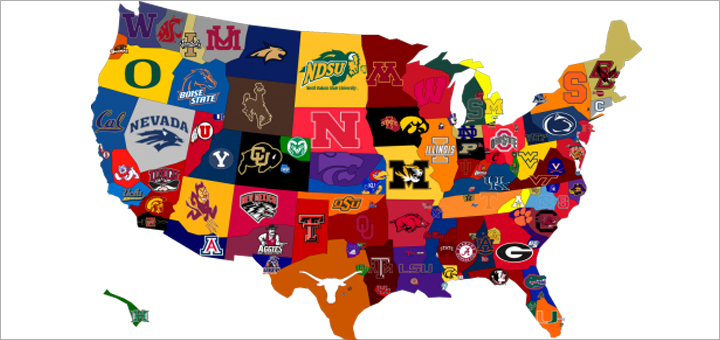 I am not here to declare the new college playoff a fraud or lobby on the behalf of the Big 12s overlooked Texas duo; TCU and Baylor. You can make a very strong case for Baylor which had the "best win" of any of the three teams fighting for the last playoff spot since they defeated TCU and you can make a case that TCU had the most understandable or "best" loss since they loss to Baylor on the road by 3 points which is generally the accepted margin for which home field advantage is worth in a point spread. Heck, Ohio St. has a semi valid case since they technically had more wins than either Baylor or TCU due to actually having to play a conference championship game in which they utterly thumped a highly overrated Wisconsin team.
My point is that the margin of difference between these three teams was razor thin and in any previous season none of them would have garnered much attention because not a one of them would have received any national support for playing in the National Championship game that existed before the current playoff system. That doesn't mean they don't have the right to feel slighted because they were, it's just to offer some perspective. Since the first year of a four team college playoff left us with six teams universally regarded as worthy, the consensus seems to be that we need an eight team playoff. The reasoning goes that if we had an eight team playoff, all worthy teams would make it and all of our problems would be solved.
This line of thinking ignores one very simple flaw; we only really agree on the top six teams. I think if forced to include eight and without any more one loss teams from power 5 conferences, consensus opinion would land on two loss Mississippi State as the 7th team. Their resume includes two reasonable losses to top 15 teams on the road and a trio of wins over teams that have believed to be decent at some point in the year. They are certainly the most encouraging of the remaining teams. The final spot, number eight for these purposes would come down to a series of deeply flawed teams.
The natural reaction might be Michigan St. The Spartans can make a case that they took care of business and defeated everyone worse than them on their schedule and justifiably lost to everyone better than them on their schedule. They were a top ten preseason team that lost to two top 6 opponents and nobody else. They are the only team in the country that can make that claim. Further investigation however reveals that Michigan St. did not beat one quality opponent all year. Their best win might be a 3 loss Nebraska team that got drubbed by Wisconsin (who also proved to not really be any good) and got their coach fired. Their next best win might be Maryland and I shouldn't need to explain why using the term "quality win" seems a bit disingenuous .
A case could be made for Ole Miss with two wins over top 7 teams (nobody else has that) and three losses that could be described as understandable. A reasonable person could make the case that if Ole Miss and Michigan St. switched places that Michigan St. would have at least 3 losses (maybe 5) and Ole Miss would probably only have 2 losses (maybe one).
If neither Ole Miss nor Michigan St. seems acceptable you can select from a bevy of 3 loss teams including those that lost conference championship games (Wisconsin, Georgia Tech, Missouri or Arizona St.) or those with really embarrassing regular season losses that kept them from playing in their conference championship game (UCLA, Georgia). Someone would cape up for Boise St and their unremarkable 11-2 season.
The point of that last paragraph is that we would argue about the 8th team to make the playoff, just as we argued about the 4th and we used to argue about the 2nd in most years. Even worse, let's say Ole Miss did make it because, yanno, SEC Bias.* They could conceivably win three games and be declared champion. It's not inconceivable considering they've already defeated two of the other seven teams that would make it, they certainly have the talent necessary to compete. In this possible albeit unlikely scenario we have a three loss National Champion that many people would argue didn't deserve to even make an 8 team playoff. The Associated Press would probably vote another team as their "champion", just because they are dickheads like that. Chaos would reign and somebody would suggest with no hint of irony that we need a 16 team playoff to ensure that the "wronged" teams such as Michigan St, Arizona St, Georgia Tech, Boise St., etc would be given their opportunity.
I think what I am saying is that everything is stupid and so is any system for trying to decide a National Champion of 100+ teams from schools of different sizes and athletic budgets with a wide disparity in national recognition and tradition. We will never be happy and every system will be flawed. Let's just enjoy the games we do get and spend a little less time getting worked up about the ones we didn't get.
*There is no SEC Bias at ESPN or most parts of the media. That is a ridiculous concept perpetrated by people with an interest in making you believe there is such a bias.
Joe Bisceglie
Sports Columnist,
Inside Sport Center
Dec 9, 2014