What does your favorite team need to make the CFB playoffs?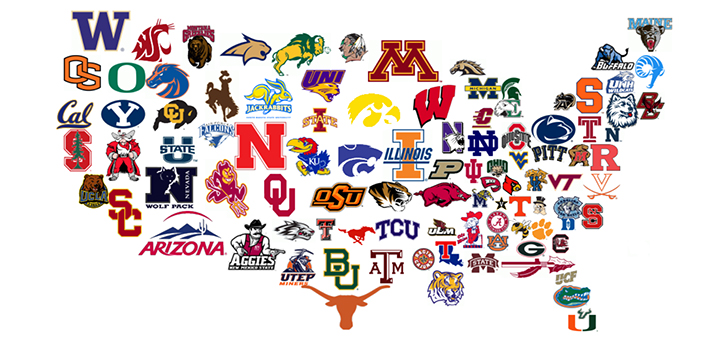 We are in Year 3 of the College Football Playoff system. There was some controversy in the past but overall the committee stuck to a basic theme; 1 or 0 loss major conference champions. All 8 of the previous CFB playoff teams fit this criteria. However, 2016 has been a strange year and suddenly we have a potential chance for some major controversy in the form of multiple two loss conference champs and a strong one loss non-conference champ. So who might make the playoff and what needs to happen for each team to do so? Let's figure it out.
Alabama
What Do They Need? They simply need to win out. Out of every team they seemingly have the most room for error. They could lose to Auburn this week and almost certainly make it. They could in theory defeat Auburn and lose to Florida in the SEC title game (lol, never happening but humor us) and still make it.
How do they not make it? Short of the universe ending? They would have to lose to both Auburn and Florida which not only isn't happening but possibly still doesn't eliminate them depending on some other Conference outcomes.
Clemson
 What do they need? Another win and they are in situation. If they defeat South Carolina and Virginia Tech in the ACC title game, there is no chance they don't make it. They could even lose to SC and still make it if they beat Virginia Tech or UNC.
How do they not make it? Losing to Va Tech or UNC should eliminate them from the playoff discussion. It would be difficult to justify putting in a two loss non-conference champ.
Michigan:
What do they need? Just win baby. Beating Ohio State and then the Big Ten East champ punches their ticket without a doubt.
How do they not make it? Michigan losing either of the next two games almost definitively keeps them out. Same theory as Clemson, a two loss team that didn't win its conference isn't making it. And good, fuck Michigan, man.
Washington
What do they need? Our final "win and in" team. Beat Washington St. and then Colorado or USC in the title game. A 1 loss major conference champ in a world where there are only 4 of those or less will make the title game.
How do they not make it? Any loss. The Pac 12 is not strong enough to support a non-conference champ in the playoff. There is a possibility the committee takes a 1 loss non-conference champion Ohio St over Washington but I don't personally see it.
Ohio State
What do they need? Our first team that gets tricky. They need to beat Michigan, there is no scenario in which they lose to Michigan and make it. They are greatly helped if Michigan St also beats Penn State which puts Ohio St in the Big Ten title game. If they then win the Big Ten title they are in.
How do they not make it? A loss in any remaining game(s) keeps them out. It gets interesting if they win but PSU also wins. How is a 1 loss Ohio St. that didn't even make their conference title game viewed compared to a 2 loss Big Ten Champ? My guess would be unfavorably. If Ohio St doesn't make the Big 10 title game, they need a bit of help in the form of as many 2 or 3 loss conference champions as possible. They won't beat out Wisconsin or PSU in this scenario but could be ahead of 2 loss conference champs from Big 12, Pac 12, ACC and allow the Big Ten to get two teams in.
Wisconsin
What do they need? They seem like the two loss team in the best shape. If they win out they would be the Big 10 Champs and the champion of what many consider the strongest conference in the country is very likely to make the playoff. They would certainly have as strong of a case as any other two loss team. Their case is made even stronger if any other conference has a 2 loss champion.
How do they not make it? A loss in any remaining games keeps them out. There is also a scenario in which a 1 loss Ohio St gets in ahead of a two loss Big 10 champion Wisconsin. I think this is unlikely but Ohio St would have a better winning %, a head to head win and a more impressive resume; just saying. Wisconsin is rooting for as much anarchy outside of their own conference as possible. It also helps them if Michigan beats Ohio St and they beat Michigan.
Penn State
What do they need? For starters they need Ohio St to defeat Michigan. PSU holds the tie breaker against Ohio St but not Michigan. Then they need to take care of business against Michigan St and Wisconsin. Same as Wisconsin, I just cant see how the Big Ten champ doesn't make the playoff, possibly at the expense of Ohio St.
How do they not make it? A loss in any remaining games knocks them out. If Michigan beats Ohio St, PSU won't even get a shot at the Big 1 title game but may get a Rose Bowl consolation prize. There is a world in which PSU wins the Big 10 but Alabama, Clemson Washington and Ohio St all win out and the committee makes the curious decision to go with OSU over PSU. I don't see this happening given that Penn State holds the head to head advantage but I'm often wrong.
Colorado
What do they need? They need to beat Utah and whichever Washington team they'd play in Pac 12 title game preferably the Washington Huskies as it would help their resume. They would also very likely need some help. A 1 loss Ohio St team that doesn't win the conference could get in before Colorado. It would help them if Oklahoma loses again. They would really like if Clemson doesn't win the ACC or if everybody in the Big 10 has 2 losses.
How do they not make it? They can't lose any of their remaining games. As mentioned above, they could also be squeezed out in favor of a 1 loss Ohio St or Big 12 Champ Oklahoma depending on how the committee feels that morning. Colorado is the most underrated team in terms of resume impressiveness.
Oklahoma
What do they need? In a word, lots. Oklahoma is already at two losses. Winning the (perceived) weak Big 12 isn't enough, especially because their two losses were to non-conference opponents. An argument can easily be made that Oklahoma simply took care of business against a weak Big 12 slate. Oklahoma needs as much anarchy as possible. A three loss Pac 12 champ would help. So would a three loss ACC champ. Wisconsin winning the Big 10 could make things very murky.
How do they not make it? Most scenarios that don't involve 3 loss conference champs from other conferences. Oklahoma may be ahead of some schools in the current playoff ranks but those teams will get a conference title game to boost their resumes. If they lose to Oklahoma St in the de facto Big 12 title game they are also out.
Florida
What do they need? Wins against FSU and Alabama (hahaha) and a little bit of chaos in either the Pac 12 or ACC so in so many words, that universe ending scenario we mentioned in the Alabama paragraph.
How do they not make it? Losing either of their last two games in which they will be double digit underdogs in both.
Oklahoma St.
What do they need? They need to win Bedlam and beat Oklahoma. Then pure chaos and a selection committee that isn't paying attention. I outline such a scenario at the bottom
How do they not make it? I'm sorry OK State fans, ya'll lost to Central Michigan. You can't make the playoff if your team lost to Central Michigan even if the end of that game was utter bullshit.
There's no other possible two loss conference champ. So what's the strangest possible scenario?
Florida loses to Florida St. Alabama loses to both Auburn and Florida making 3 loss Florida the SEC Champ. Clemson loses to South Carolina and then to VA Tech or UNC in the ACC title game. Michigan beats Ohio St. Iowa beats Nebraska, Minnesota beats Wisconsin. This creates a 4 way tie for the Big 10 east. Whomever comes out of that tie beats Michigan. This gives us an underwhelming 3 or 4 loss Big 10 champ.
Oklahoma St. beats Oklahoma giving the Big 12 a 2 loss champ with one of the losses to a fucken MAC team. Washington St. beats Washington. USC loses to Notre Dame. Colorado loses to Utah. USC beats Wazzou in the Pac 12 title game. USC is Pac 12 champ at 9-4
To recap this scenario gives us 10-3 Florida as SEC champ, a 10-3 ACC champ (UNC or VA Tech) a 10-3 Big 10 Champ, a 9-4 USC wins the Pac 12 and somehow looking the best, a 10-2 Oklahoma St that lost to Central Michigan as Big 12 champ.
Joe Bisceglie
Sports Columnist,
Inside Sport Center
Nov 25, 2016