Recap of NFL Week 2 and a picture of a hot girl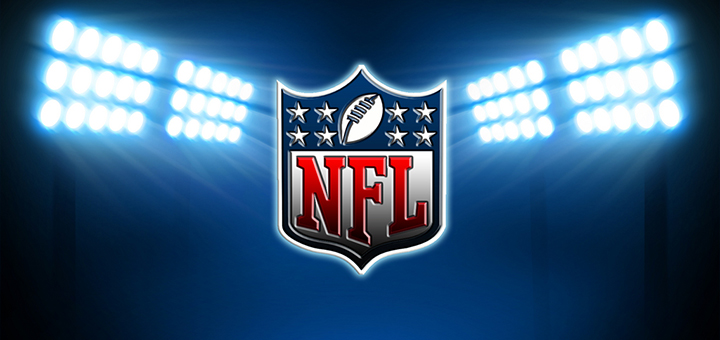 Welcome back to our weekly NFL recaps. This is a Ray Rice and Adrian Peterson free zone. There will be no pontificating about the moral and legal repercussions of their actions. This column is for recapping the Sunday afternoon games and then rewarding you with a present at the end. Let's get after it.
Bills vs Dolphins: Are the Buffalo Bills good this season? They haven't been good in so long that I think we all just assume that they aren't good again. They have a defense that can so far be described as "stout." They have a terrific running back combination in CJ Spiller and Fred Jackson. Lastly they have a dynamic rookie wide receiver in Sammy Watkins. What's not to like about this team? Oh yea, their QB is EJ Manuel. Well they have all that other stuff and the weather in Buffalo is umm, something. For this week at least their shaky QB play did not slow them down as they absolutely boat-raced the Miami Dolphins in a game that ended 29-10 and didn't even feel that close.
Saints vs Browns: The Saints were a trendy Super Bowl pick this year. They were returning most of a dynamic offense and made signed Pro Bowl safety Jarius Byrd to bolster and improved defense. They now stand at 0-2 after losing to the Cleveland Browns and the Super Bowl bandwagon is crashed on the side of the rode engulfed in flames. Rookie sensation Johnny Manziel made his pro debut for the Browns and it was the most electric handoff to a running back you've ever seen. In all seriousness, the Saints defense was lit up by Brian Hoyer and Terrence West and Drew Brees and the offense never got things going and the Browns can build up the hopes of their fans before dashing them later in the year. It's coming Cleveland, don't be fooled. This ends badly, I promise you.
Giants vs Cardinals: This game never happened. You can't make me acknowledge it.
Bengals vs Falcons: AJ Green reinjured his foot and missed basically the entire game and accumulated no stats. This was one of many significant fantasy injuries that affected my lots of fantasy teams across the nation. The Bengals did not fret as they still had Giovanni Bernard and Bernard torched the Falcons paper mache defense for 180 total yards and a pair of TDs. Let this serve as Mr. Bernard's official notice to the rest of the league that he would like to be included in any and all "best running back alive" discussions. On the other side, Matt Ryan's "breakout season" hit a speed bump since he was no longer tasked with destroying New Orleans pretty terrible defense. The Bengals frustrated and limited the Falcons to a mere 10 points and just under 330 total yards, about a quarter of their totals from the week before.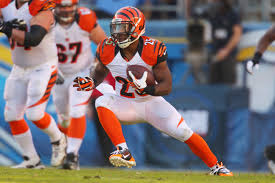 Jaguars vs Redskins: Robert Griffin III was another high profile player that got hurt in their game and never returned. RG3 injured his ankle and much discussed backup Kirk Cousins came in and led the Redskins to a drubbing of one of the NFL's three worst teams. That distinction is very important, the Jaguars are not very good and this win is as much about that fact as it is about how "good" Cousins is. Let's introduce a new segment called "Real Talk", real talk; Kirk Cousins is not all that good of a QB. This was probably the best game of his career and he completed 66% of his passes for 250 yards and a pair of TDs against a team that may be historically bad. If Kirk Cousins is the answer in Washington then maybe people are asking the wrong questions.
Cowboys vs Titans: The Titans bandwagon crashed into the Saints bandwagon. That was quick guys, My only note from this game is that Demarco Murray is really good and when that "best running back alive" discussion comes up, his name should at least be mentioned.
Panthers vs Lions: I will be honest, there are too many games on at once and inevitably I don't watch at least one or two games. This was one of those games. The Panthers ruined the Lions day and maybe the Lions are also not nearly as good as we may have previously believed.
Patriots vs Vikings: Another "take them behind the woodshed" performance from the Patriots, approximately the 1,000th of the Brady/Belicheck era. The Pats scored through the air, ground, special teams and kicked a bunch of field goals while generally making Minnesota QB Matt Cassell's day shitty.
Rams vs Bucs: Last week I referenced Survivor pools and how they work. In my Survivor pool, each of the last two weeks somebody has selected the Tampa Bay Bucs as their pick. Let that sink in for a second; two people paid money to participate in a pool and then chose to let their fate rest in the hands of Josh McCown, Lovie Smith and the rest of the Tampa Bay Buccaneers. This makes me wonder if these two people understood the rules of the Survivor pool before they entered.
Texans vs Raiders: Texans defensive end JJ Watt caught a touchdown pass because JJ Watt is tired of dominating football on only one side of the ball. JJ Watt wants to earn his new gigantic contract and ruining the lives of opposing QBs and causing nightmares for their offensive coordinators is not enough, he also wants to catch touchdown passes. Let's not stop here, let's have Watt run the ball, maybe take a snap at QB in some "Wild Watt" formations. Fuck it, let JJ Watt return punts. Make it happen Bill O'Brien.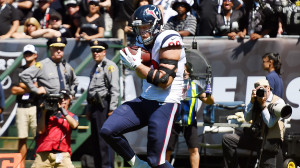 Seahawks vs Chargers: Last week Seattle looked utterly dominant and the Chargers blew a seemingly insurmountable lead. Of course this week the Chargers handled business and smacked the defending champs just as everyone expected. Oh wait, nobody expected that to happen? The Seahawks were a fairly large road favorite? Well, like they say; you can't predict football or something like that.
Broncos vs Chiefs: Jamal Charles left this game with an injury as fantasy football's version of black Sunday went down. The Chiefs managed to hang in the game despite the absence of their best player. Kansas City even had a chance, with the ball, down one touchdown and some time on the clock. Then Alex Smith threw a game ending pick 6 and the Broncos were victorious, except the INT was over-turned because of a penalty on a different Bronco's players. That's OK because a few plays later Demarcus Ware ended the game with a strip sack of Alex Smith, except the fumble was overturned by the officials. Finally at the end of what seemed like an endless drive, the Broncos were able to hold on fourth and goal and move to 2-0. Don't fret for KC coach Andy Reid as he is all set with a fall back career posing as the Kool-aid man, "oh yea."
Jets vs Packers: I'm not going to pile on the Jets, Aaron Rodgers is really freaking good and lots of good teams have watched large leads evaporate in his well-manicured hands. Oh you didn't know, Aaron Rodgers has beautiful hands. It is the secret to his success. All those perfectly lofted TD passes are the result of hours of hard work, not just in the film room but by a Korean woman in downtown Green Bay who makes sure that Rodger's hands are perfectly kept.
Aaron Rodgers and his beautiful hands date actress Olivia Munn. Olivia Wilde is better looking than Olivia Munn so here she is…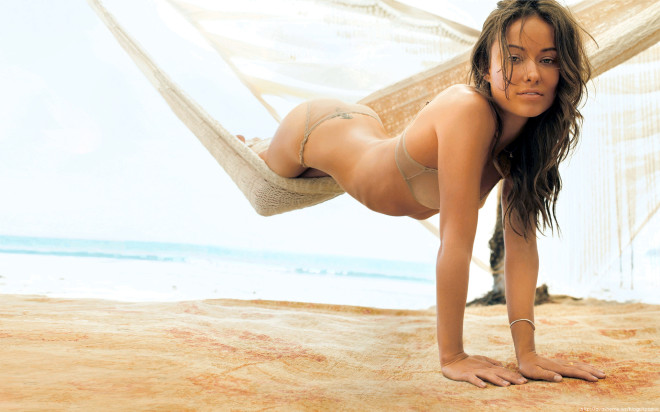 Joe Bisceglie
Sports Columnist,
Inside Sport Center
Sep 15, 2014