Fantasy Football 101 Drafting
Start Drafting for your Fantasy Football Team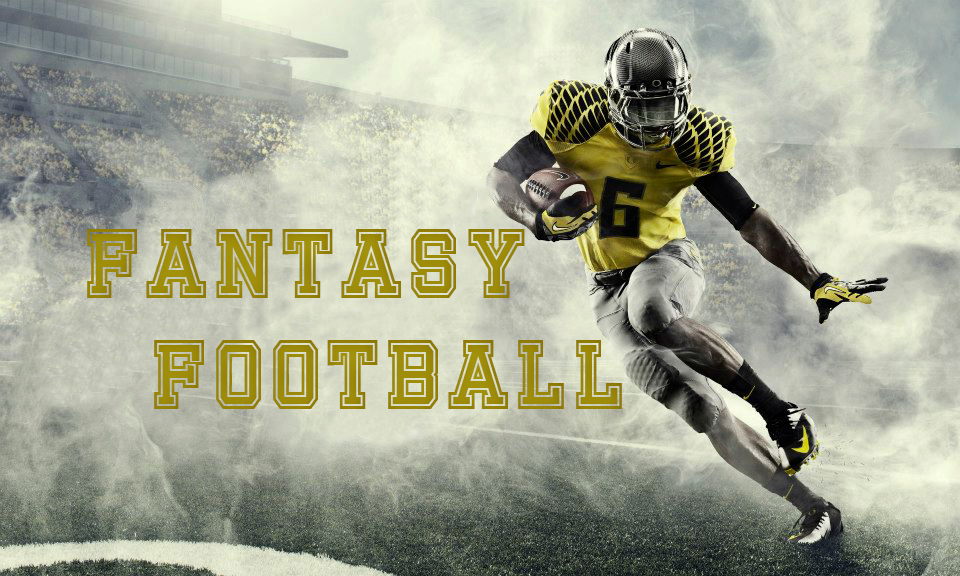 Over the years I have introduced a multitude of people to fantasy football including my fiancé. Just this year alone my league of closest family and friends will add two new members that have never participated in fantasy football before. I believe that fantasy football is a great way to strengthen friendships, build new ones and of course to have fun. Throughout all that time I have found that while there is almost unlimited fantasy analysis and content available for consumption, there is almost nothing for newbies to help explain to them how to get started and what to do. Fantasy Football isn't a complicated activity but it can be daunting for first-timers. I think what follows is the most comprehensive yet simple to follow and easy to understand guide for brand new fantasy football participants. This is Fantasy Football 101.
Our goal is to outsmart our opponents by selecting as many of the best players for our team as possible. 
Fantasy Football is a game in which real human beings create fake teams of real football players and accrue points based on the real life weekly exploits of these players. Your average fantasy football league (FFBL) is comprised of 8-16 teams. These teams will consist of approximately 12-20 real NFL players and more often than not a defense comprised of every member of one particular NFL teams defense. The majority of the focus in a FFBL is on what we call the skill position players. To put it simply, we care mostly about the men that are responsible for the touchdowns. Our goal is to outsmart our opponents by selecting as many of the best players for our team as possible.  The competition is usually of a head to head variety against another team of one of our league mates. Every week we face off in a head to head competition in which we want our chosen players to outscore our opponents. What follows is a guide on how to do that.
Step 1: Know your league rules
Fantasy leagues are like snowflakes, no two are alike even though from far away they all look exactly alike. Every fantasy football website (ESPN, Yahoo, CBS Sports, NFL.com, etc) has different default rules. Then even on the same website, league commissioners can choose to customize their rules. The most important lesson to take away from everything that I write is to know your league's rules before you draft. The league's individual rules and scoring settings dictate which players are most valuable. Let's use a non-sports example. Let's say that we are in a league that drafts movie stars onto fictional teams to accrue points. Let's say that points are based off box office gross. Well that will make Leonardo DiCaprio, Channing Tatum and the Robots from Transformers extremely valuable. Their films all earn a lot of money at the box office. They would all be selected fairly early in our hypothetical draft. Now lets' say that box office gross isn't worth points. Let's say that instead, points are gained through Academy Awards. Well Dicaprio, Tatum and Optimus Prime all suddenly become less valuable. We wouldn't select any of them with an early pick based on that particular rule. This is a ridiculous example to give you an idea of how important it is to know the rules before you do your preparation. Let's go over some basic rules and scoring settings and what they mean.
Standard scoring: This generally means that every 10 yards receiving or rushing is worth one point and every 25 yards passing is worth one point. Rushing and receiving touchdowns are worth six points a piece and passing touchdowns are worth four. Kickers and defenses also accrue points but we will get into that later.
Point per reception (PPR): In this format every time a player catches a ball it is worth one additional point on top of whatever points they might have gained from yards or touchdowns. This makes players that catch the ball such as wide receivers, tight ends and some running backs more valuable. It decreases the value of Quarterbacks (QBs) as they never catch the ball.
Six points per passing touchdown: Some leagues award 6 points for every passing touchdown or award 1 point for every 10 passing yards as opposed to the more standard every 25. Simple math tells us that this scoring format makes quarterbacks more valuable. They are the only ones passing the ball so they are the only position that gets a boost in this format. It is hard to find rankings for this format, my advice is to edit a standard set of rankings so that all of the quarterbacks are 2-8 spots higher in the ranks.
Starting lineups: Most leagues allow you to start 8 total players; a QB, 2 RB, 2 WR, 1 TE, 1 DEF, 1 K and a "flex" which can usually be a wide receiver or a running back. Most rankings are based on this type of lineup so adjust values accordingly if your league has more or less of one position.
Playoffs: How many teams make the playoffs? When do they start? The standard for these questions are 6 and in week 14. Make sure you know.
Keeper or Dynasty Leagues:  Keeper or dynasty leagues are a way for FFB zealots to keep the fun going all year round. In these type of leagues your roster operates in a manner similar to a real NFL team, your players or a portion of them automatically return to your team from year to year. There are a lot of intricacies that go into this type of league. I don't necessarily recommend them for a first timer.
How many teams are in your league?: This matters, the standard is 10 and you will see different analysis available or referenced for larger leagues.
Step 2: Draft strategy:
Have fun. Seriously you only get one first time. You will make mistakes but if you did the leg work before hand and prepared you will be fine. The biggest keys to remember are:
Have a top 200 player ranking list that you will work off the entire draft. Remember to find a list that fits your league's rules and do your best to work off it.
Make sure your draft list is updated with recent injuries and suspensions. Don't pick someone that is out for the season. Magazines generally have the most out of date lists.
If your draft is online, try to pre-rank as many players as possible on the league's website software as you can before the draft. Every FFB website offers you the option to pre-rank your players. An online draft moves so fast that you will not be able to update an excel spreadsheet or cross names off a piece of paper fast enough.
Diversity matters, position diversity of course. If your league allows you to start 3 running backs then using your first 4 picks on running backs is a bit of a waste. Balancing value vs need is a skill that takes time to develop but a good rule of thumb is to use your first 6 or 7 picks to fill in your starting running backs, wide receivers and quarterback, maybe a tight end. Remember; success in fantasy football is all about creating the best starting lineup possible.
Always pick a kicker in the last round. There is a shit ton of data available that will show you how little difference there is between kickers. Wait till your last pick and grab anyone. I prefer ones with late bye weeks that play indoors.
Wait to pick a defense as well. Defense selection is a little more intricate than kickers but as a beginner, just wait till the very end to grab one. They are notoriously difficult to predict and easy to find during the year.
Ignore the comments of your fellow drafters. While it is funny to make snide comments about your opponents picks, in reality they don't know shit.
Auction leagues like dynasty leagues are more complex. Once again I recommend avoiding them until your experience level grows.
Step 3: Roster construction:
A FFB roster will generally consist of 14-16 total roster spots; about 8-11 "starting" players per week and then a bench of 5-8 players.  Some leagues have very strict requirements about roster construction and place limits on how your roster can be constructed by positions. These leagues are stupid but it is important to know if you're in a league like this so you can plan accordingly and find a new league next year.
Your roster construction is not an exact science but it should be something along the following lines:
1 or 2 QBs
1 (maybe 2 tight ends)
1 (maybe 2 defenses but definitely not if you already have 2 tight ends)
1 kicker, if you pick a back-up kicker just give up
The rest should be equal parts wide receivers and running backs. These players make up most of your starting lineup. They should comprise most of your roster.
Step 4: Roster maintenance
In season transactions: In almost all fantasy football leagues participants are allowed to adjust their roster by adding players from the free agent pool and dropping players from their current roster. It is never required that you make a roster move so only add a player if he helps your team more than the player you're cutting. Winning teams are generally among the most active in weekly free agency. There are a few different types of weekly transactions.
Waivers: Every league has a waiver order and if a player is on waivers the team with the highest waiver priority that claims a particular player will be awarded the player at the end of the waiver period. If you don't have the #1 waiver pick it is advisable to put in multiple waiver claims. If you don't get your first choice you may get your second or third or 8th.
FAAB: This is an acronym for free agent auction bid. Teams are given a budget of generally $100 and throughout the year can bid on free agents with this fake money. The team that bids the most on a particular player will be awarded him.
Free For All: There is no waivers or FAAB, players can be added or dropped at any time during the week. This is generally the sign of a disorganized league. The person sitting by their phone or computer will get the "hot" free agent pick up every time.
Step 5: Set your lineup
It seems so simple but I've seen leagues won and lost because somebody forgot to adjust their lineup for the week. Every week review your lineup and do your best to select the players that will produce the most total fantasy points that week. Your chosen website will have projections and there is no shortage of ranks on every sports website to tell you who to play in any given week. Find a website you trust and blindly follow their rankings every week until you get the hang of it yourself.
You will inevitably make mistakes every week and select the wrong players to start and possibly even cost yourself a win in doing so. Just relax, this is the bane of every fantasy football player. We all have a story about the starting lineup mistake we made that one (or 100) times. In 2006 I started Chad Pennington over Drew Brees in a week that Brees outscored Pennington by about 95 fantasy points.
I recommend setting your lineup on Wednesday and again on Sunday around noon EST. This ensures you set a lineup before the weeks first games and gives you a chance to make changes right before Sunday games with all the most up to date injury information.
If your kicker or defense is on bye, it is generally an accepted strategy to cut them and pick up one that is playing that week. This is partly why I encouraged you not to spend an early draft pick on them.
Don't stop setting your lineup in the final weeks, even if it's Christmas week and your team is in last place, still set your lineup. Owners that stop paying attention often don't get invited back the next year.
Step 6: Never stop learning
Every week there are millions of words available on the internet for free that will give you advice on how to manage your team and make lineup and roster decisions. Ingest as many of them as possible. For a newbie there is no such thing as too much information.
This is the most important
Step 7: Have fun
If it's not fun then don't do it. Fantasy Football isn't for everyone. I've quit leagues that become more work than fun. Feel free to do the same. If it becomes a chore, start a stamp collection or something, after the season is over of course.