Official Inside Sport Center MLB Playoff Preview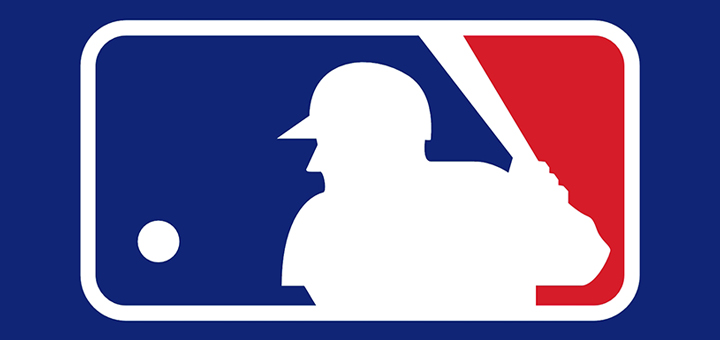 If you're like us here at Inside Sport Center then you haven't been paying too much attention to the baseball season so far. It is entirely possible that you aren't even cognition of what teams are involved. That's ok, I enlisted the help of my friend Chris Olivieri for a preview that will prepare you for awkward baseball conversations at bars while you're wondering why football isn't on the TV.
Who is Chris and why is he helping us with a baseball playoff preview? Chris is one of the creators of Dog and Pony Show, the website that published the majority of my online writing content for years (our old content lives here
http://old.daps.tv/
). He is a gruntled (opposite of disgruntled) Met fan and probably the biggest baseball fan under the age of 40 that I know. Plus he was willing to sit down and exchange emails with me which is basically the number one requirement. Follow him on Twitter
here
and let's get to it.
Joe: I'm excited for a Derek Jeter-less playoff preview. I'd like to thank the brothers Steinbrenner for deciding the Yankees have a budget all of a sudden and probably costing them a shot at the playoffs and a few more weeks of the D2J propaganda tour.
Ok enough snarkiness.
Who have you adopted as your rooting interest since you and I share the same life ruining affliction known as Met fandom?
Chris: That's a clown question, bro.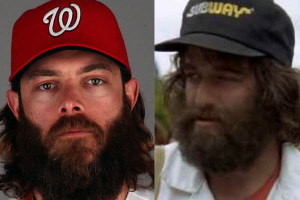 Seriously though, I'm not rooting for the Washington Nationals, mostly because of Jayson Werth's beard. BTW, have you noticed how much he looks like Happy Gilmore's caddy? Also, they beat the Mets this year to the point of shaming them. I want them to go home feeling bad. Is that mean? I mean, it can be funny too. Bryce Harper makes the funniest faces when he's mad.
Joe: If Jayson Werth pulls a cracker from his beard and starts eating it, I will die from laughter.
Chris: I just want an underdog to win. Pirates, Royals, Orioles… they didn't load up at the trade deadline, they don't have a ton of sexy superstars, but they're all going to be fun to watch.
Joe: I'm rooting for most of the same things you are. I have a particular affinity for underdogs, especially those whose fan bases have gone so long without happiness. I've adopted the Royals and Pirates which is bad news for both teams, they will probably both be one and done. Mostly I'm just rooting against the Cardinals, my 3rd least favorite team in all of baseball.
Let's get right to some predictions? Who makes it out of the one game playoff/hunger games between the A's and Royals and Pirates and Giants?
Chris: Jon Lester beat the Rockies to clinch the '07 World Series, Adam Wainwright twice in last year's series, and all of that after beating Cancer. I can't pick against that dude. So, as bad as their post-Cespedes nosedive has been, and as much as I'd like to see the Royals move on, I'm saying A's. In the Pirates and Giants series, I'm guessing the Pirates pull it out; game winning home run from Ike Davis. You know, so you and I can cry.
Joe: I'm with you on Jon Lester, isn't this why Billy Beane traded his best hitter for him, for this exact moment? I got the A's and the Pirates because, why not?
What are you most excited about for these MLB playoffs?
Chris: I'm always excited to see teams that haven't tasted the postseason in a while. Kansas City hasn't seen October baseball in 28 years, James Shields has been trying to get himself a ring for years, they've also got the rookie,  Yordano "102 mph fastball" Ventura waiting in the wings, plus  their closer ain't too shabby either.
The Orioles made a nice run in '12 but fell short. I think that last minute spring FA acquisition of Nelson Cruz may just make every GM in the league look stupid. The Pirates similarly just missed last year. McCutchen is as dynamic as they get, Liriano's been lights out the last couple of months, and I'd laugh my ass off if Ike Davis hits a bunch of bombs just to make us Mets fans thank god Matt Harvey is coming back next year.
Joe: Matt Harvey is god, we should just thank Matt himself for coming back next year
The Nelson Cruz thing makes no sense, the fork was sticking out of his back so egregiously that I'm surprised he didn't pull it out to use it to shovel food into his mouth.
Chris: All that being said, who wouldn't want to see The Angels go on a run just so we can watch Mike Trout do all the Mike Trout things on the biggest stage in the game.
Man, this could be a great post-season.
I'm glad you brought up Trout, besides the world's greatest player what player are you most looking forward to watching?
Chris: I'm curious to see if Puig can make up for the abysmal All-Star game appearance. When he's good, he's fucking amazing. I can just smell the Trout/Puig PR for an all Los Angeles World Series. I'd love to get a look at KC's Ventura and Holland throwing them Super Mario fireballs, but their buddies are going to have to figure out Lester First. We'll see. How about you?
Joe: I'm going with 3 stars but 3 guys that I feel are somewhat underrated. For starters, I'd like to see Andrew McCutchen get some extended time in the spotlight. Trout is without a doubt the best player in the world but "Cutch" isn't so far behind. If the Pirates make an extended run he could gain a lot of notoriety and acclaim that he rightfully deserves.
Chris: I agree 100% McCutchen should be a MUCH bigger star than he is right now. If the Pirates win it all (on a series of Ike Davis home runs), McCutchen will be that dude on Fallon, and Kimmel, and Conan, and Colbert? Will Colbert be on by October? I don't know but you get what I'm saying. He'll shine.
Joe: The others are Stephen Strasburg and Bryce Harper. It feels like these guys have been in our lives forever but they are only 26 and 21 respectively. Strasburg has been excellent for over a month now after an up and down season. As for Harper, up and down doesn't even begin to describe his season. His idiot manager yanked him around the batting order and then benched him for not hustling. He then got hurt from hustling too hard and came back from injury and struggled. He is still the Nationals best hitter and I'm not sure how far they can go unless he is playing like the best 21 year old alive (which he is).
Since we started talking about Trout's team; the Angels, who is starting game 2 for them (assuming Jered Weaver starts 1)? Do they have enough pitching to win one series let alone the whole thing?
Chris: Shoemaker's been pretty great lately, but he's coming back from an oblique injury and those are a bitch. I guess it's going to have to be CJ Wilson. He was the big pitching acquisition a couple of years back, so now he's going to have to prove the Angels weren't just suckered in by some pretty hair.
Joe: CJ Wilson sucks, if the Angels advance it will be because Mike Scioscia managed the hell out of the pitching staff in particularly the bullpen and Jedi mind tricked them through a few rounds. In short, no they don't have enough pitching.
Will Clayton (left-handed Pedro) Kershaw lose a game this postseason?
Chris: Kershaw's shit the bed in the NLCS a few times now. He goes out and rocks the Division Series, only to forget how to baseball in the semi-finals every time. No idea what that's about.  At least he can sleep at night knowing, at the very least, that he was on The New Girl. Do you think he's going to show everyone why he's probably going to get all the hardware this off-season? Think he's got it all figured out?
Joe: Kershaw is currently having the best season by a pitcher since turn of the century Pedro. Here is the thing everyone forgets, pitching in the postseason is tougher, these guys are facing the best teams, trotting out their very best lineups. As great as Kershaw is, it's not realistic to expect him to pitch a shutout every time out against these lineups. Those caveats aside, no team has a better chance to win on any given day than the Dodgers do when Kershaw pitches. That's what he brings to the table for them.
Joe: I know that you are eternal optimistic and upbeat about everything but tell me, there must be someone or some team that you hate in this post season. Come on, show us the dark side of Chris.
Chris: I wasn't kidding when I said that I want the Nationals to go home dejected and sad. I really do, it's probably more jealousy than anything though. That Teddy Roosevelt mascot thing is cool though. I'd invite him to my birthday party.
I'd also like to see Yadier Molina and Adam Wainwright get swept. I was at Game 7 of the 2006 NLCS, and I'm still bitter. Ever since they mocked the Jose Reyes "Jose, Jose, Jose" song, they have an enemy in me. They get to face NLDS Kershaw, so it's going to be a good time for Cardinal hating.
What's nice is that we all get to hear Pedro Martinez talk about Michael Wacha for at least one series. I could probably watch a whole reality show centered on that one bit. Why doesn't Pedro have a show yet? That's kind of a crime…
Joe: I'd watch a Pedro reality show but what I really want to see is Pedro picking up a Wiffleball and pitching it against unsuspecting batters. I feel that even if Pedro has never seen a Wiffleball before (and that is possible) that within 10 minutes he would figure out the very best way to throw filthy breaking stuff that made mens' knees buckle and their tear ducts to open. f you haven't heard it you should check out the Jonah Keri podcast in which he interviews Pedro, he is super interesting besides being the most dominant pitcher of my lifetime.
Ok let's wrap this up. Give me one X-factor for each teams post season success.
Chris: With two Wild Cards coming in from each league, this is going be tough, but here we go…
The A's X-Factor already happened. They rolled the dice and traded for a new pitching staff during the season. Will that be enough?
Joe: I think we know what the A's starting rotation will provide, the bullpen on the other hand is a different story.
Chris: The Royals need Alcides Escobar to spark them, they're this little upstart team and they need his speed making pitchers go crazy out there.
Joe: I was going to make fun of you for saying Alcides Escobar but then I looked at the Royals lineup and it may be the worst lineup in all of baseball. Their X-factor is baseball's current requirement that runs scored is a requirement to win, if that changes look out.
Chris: For the Orioles, I wonder if they'll get far enough to where Chris Davis could return and become a factor without the Adderall.
Joe: You took mine so I'm going to say Kevin Gausman who may be their most talented starting pitcher
Chris: The Tigers need Verlander to be Verlander, he was close to his old form during his last couple of starts, and that could make all the difference.
Joe: Joakim Soria, they acquired him to right the shakiest of bullpens. Brad Ausmus eased him back after his injury but I have a feeling he will get the call in high leverage situations come crunch time.
Chris: We've seen what David Freese can do in the playoffs, can he turn it on and remind everyone why The Angels acquired him?
Joe: Fuck you for bringing up David Freese. I'm not even picking one for Anaheim now.               
Chris: If the Pirates get to the Divisional Series, Francisco Liriano who's been sparkling in the second half might live up to all that "the next Johan" potential he was heralded with in Minnesota all of those years ago.
Joe: Neil Walker because we know McCutchen will hit but someone else will need to.
For the Giants I'm going with Kung-Fu Panda; Pablo Sandaval. He has carried this team to a World Series before and he may need to do it again if they are to have any hope of winning a series or three.
Chris: The Giants have Brandon Belt finally primed to become a big star in the Bay.
The Cardinals have the same in Kolten Wong. We could be hearing a lot of both of those names.
Joe: Jesus, because if you ask any Cardinals fan, they are Jesus' favorite team.
Chris: Doug Fister's been great for Washington, and he could find himself with a bunch more fans after this is all over.
Joe: Did I mention Bryce Harper is Washington's best player? I did? Somebody should let Matt Williams know.
Chris: For the Dodgers, it's really going to come down to which outfield shows up. Crawford, Kemp, and Puig can be a wrecking crew or whatever the opposite of a wrecking crew is, if the three of them are on, they could plow right through this postseason.
Joe: Hyun-Jin Ryu. We have a pretty good idea of what Grienke and Kershaw will give the Dodgers at the top of the rotation but if Ryu is also lights out then it will be hard to beat the Dodgers 4 times out of 17, let alone 7.
During the games, which TBS program will have the commercial that hardcore baseball fans who almost never watch TBS otherwise complain about on Twitter incessantly?
Joe:  I think I'm going with Castle because I still don't know what that is.
Chris: I have a feeling we're going to drown in American Dad promos, maybe even something with Roger wearing a Dodgers jersey and there will be a chorus of "That show's still on??"
Joe: American Dad is still on?
Give me predictions, Who meets in the NLCS and ALCS?
Chris: I'd like to see Pirates vs. Dodgers and Royals vs. Tigers, but it's probably going to be something like
Washington vs. Dodgers
Angels vs. Tigers
This whole season's been about pitching, but I'm thinking these California offenses are going to shine in October.
Joe: Nationals vs Dodgers
A's vs Tigers
I've believed these to be the four best teams all year and I'm not changing my mind now.
Who meets in the World Series? Who ultimately prevails?
Chris: I'm going to predict Dodgers vs. Angels in the World Series with the Dodgers taking it all. Kershaw gets a couple more pieces of hardware, the Wrecking Crew make everyone else look bad at baseball, and Mattingly gets to keep those sideburns.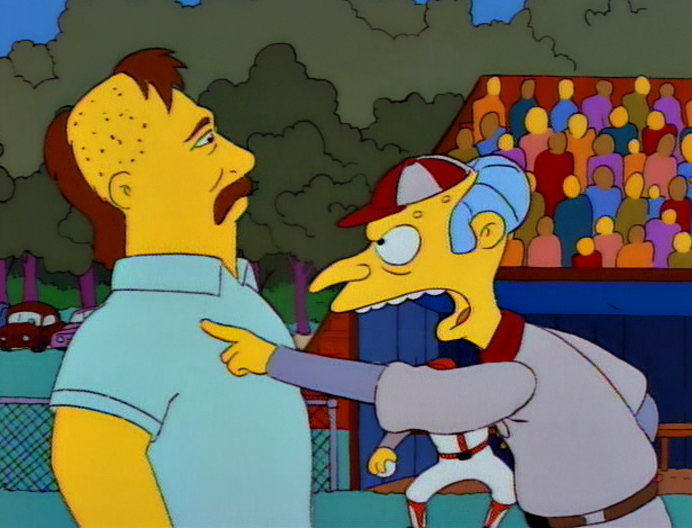 Joe: Oakland A's VS Washington Nationals with Oakland winning and Brad Pitt Billy Beane finally gets the redemption that comes with a World Series title, the only thing currently lacking from his astonishing resume.
What do you think? Who is winning the World Series? Who will be the break out star of this post season? What TBS show will have the most nauseating commercials?
Joe Bisceglie
Sports Columnist,
Inside Sport Center
Sep 30, 2014