The "war" between English Premier League and Spanish La Liga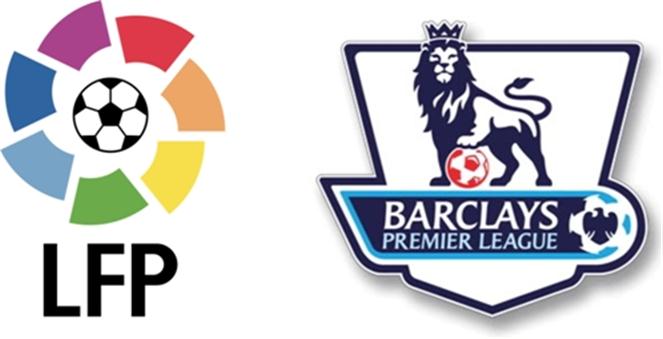 There has been a long ongoing debate in regards to the best soccer league in Europe. For years no one disputed the fact that the English Premier League was the best soccer league in Europe. It was hard to dispute that fact when you looked at the league table and saw names like Manchester United, Chelsea, Liverpool, Arsenal and Manchester City. As a result they attracted some of the best players and coaches and they had the results to show it.
Barcelona's dominance and their golden era before and under the leadership of Pep Guardiola definitely shook things up and made the Spanish La Liga very exciting to watch. They were able to land from other teams and produce from their academy players like: Ronaldinho, Rivaldo, Patrick Kluivert, Messi, Xavi, Iniesta etc, all giants in the world of soccer.
But let's not forget the Real Madrid era and their "Galacticos" team. During this period, Real Madrid's "Galactico" team consisted of names like: Ronaldo (the old one), Zidane, Figo, David Beckham, Roberto Carlos etc. To this day they are the team with most Champions League titles (total of ten titles).
The best teams attract the best players, and Real Madrid and Barcelona would probably take the first two spots on the ranking. Another fact that no one would dispute is that they have absolutely the top two players in the world (Messi and Ronaldo). However, there seems to be a discussion on who's better? The problem with the Spanish League is that they have two very good teams but the rest are just sort of mixed in the cloud. Recent success of Atletico Madrid does little impact to lift it as a league. The Spanish League is almost always won by either Barcelona or Real Madrid. When Real and Barcelona clash with each other during El Clasicos it's amazing, but for the most part the drama ends there.
English Premier League on the other hand has a lot more going on. They just have a lot more top contenders for the title and that brings top matches a lot more often.
Personally I think that the Spanish La Liga has better teams but the English Premier League has more good teams.
This year the transfer period has been thrilling to watch. English teams have been busy attracting top coaches like Maurinho (Chelsea) and Van Gal (Man. United). They brought back Cesc Fabregas, Mesut Özil and Alexis Sanchez but lost players like Gareth Bale (last season) and Luis Suarez who ended up joining Barcelona. When you look at the players from Real and Barcelona there is no doubt that they have attracted the best of the best (Suarez, James Rodrigues, Toni Kroos), but all these wonderful players belong to these two teams.
So I think the Spanish League takes the crown as having the best pound for pound teams and players but the English Premier League has more good teams and as a whole, that makes it a more interesting league to watch.
Let us know your opinion which is a better league and more exciting to watch?
Hekuran Latifi
Editor-in-Chief,
Inside Sport Center
Aug 12, 2014